Binh Dinh Investment Promotion Center: 15 years of establishment, 17 years of development
The investment promotion mission to the USA led by the PPC Standing Vice Chairman Phan Cao Thang in October 2019
CITPER Binh Dinh then dealt with both investment and trade promotion and operated as the provincial external relations office. By the end of 2004, CITPER Binh Dinh was re-structured to be IPC Binh Dinh, a body of the Provincial Department of Planning and Investment, with the functions and tasks being focused on investment promotion activities. Under the new name, IPC Binh Dinh is vested with the functions of attracting investment and providing consultancy and services relating to investment in Binh Dinh province.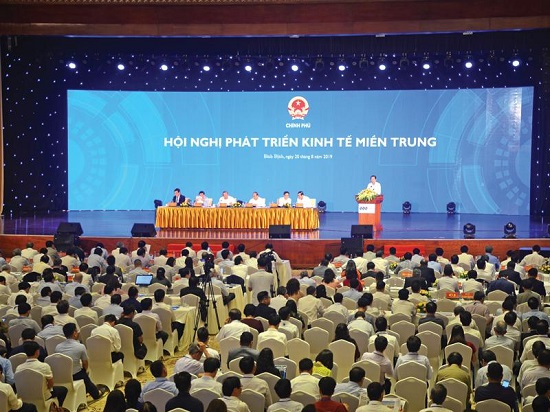 The conference on Economic Development for the central coastal region in Binh Dinh Province in September 2019
Currently, after the functions and tasks of different offices and divisions of the Department of Planning and Investment are re-structured, some functions of IPC Binh Dinh have been transferred to other offices, IPC is mainly in charge of investment management.
Up to now, after 15 years of its establishment and 17 years of development, IPC Binh Dinh has contributed significantly to the cause of promoting images and attracting investment. It is the most stable model compared to the models in other provinces and cities in the country. The model of Binh Dinh Investment Promotion Center claims to be suitable with the reality because it meets the increasing requirements in improving investment and business environment.
Over the past years, IPC Binh Dinh has made great efforts and achieved encouraging results in building and promoting the local image, attracting the world's attention to Binh Dinh and significantly contributing to luring investment in the province.
IPC Binh Dinh has organized and participated in promoting many large projects of the investors from other areas in Vietnam and from Japan, France, Thailand, USA, Germany, Singapore, Korea, Australia... Investment is in tourism, industry, infrastructure construction...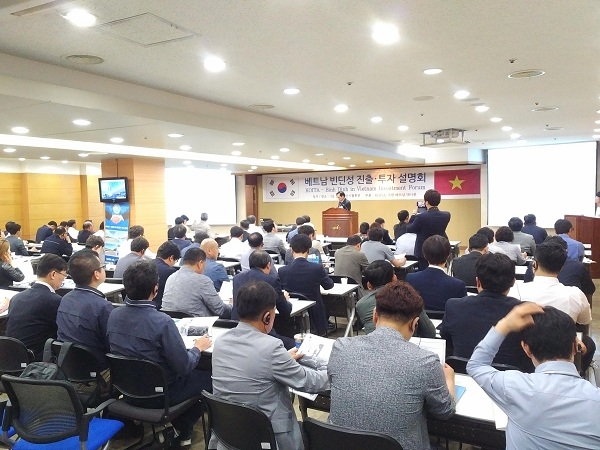 The investment promotion mission to South Korea led by the PPC Chairman Ho Quoc Dung in May 2018
IPC Binh Dinh has successfully organized and participated in major events of the province at home and abroad. During its operation, one of the outstanding advantages of IPC Binh Dinh is performing external relation activities. The center has edited and released various investment promotion materials such as booklets, VCDs, DVDs, newsletters, leaflets ... in Vietnamese, English and Japanese, which are used in foreign relation promotion and investment promotion activities in the province.
Investment promotion in Korea led by the PPC Chairman Ho Quoc Dung in January 2016
Specially, the Center has established a website for investment and cooperation promotion of Binh Dinh province (www.binhdinhinvest.gov.vn) since 2002, thereby an overview of Binh Dinh is introduced, which includes projects calling for investment, investment incentive policies, investment procedures, current news on investment promotion and promoting activities of the province. Being updated regularly in Vietnamese and English, this website is one of the most effective information channels of the province and much feedback is received from domestic, foreign and overseas partners in other areas of Vietnam and in the world.
IPC Binh Dinh is the contact agency to monitor and promote co-operation between Binh Dinh Province and other domestic and foreign provinces and cities, and it also provides consultancy and recommend proper policies and measures to encourage investment in Binh Dinh Province.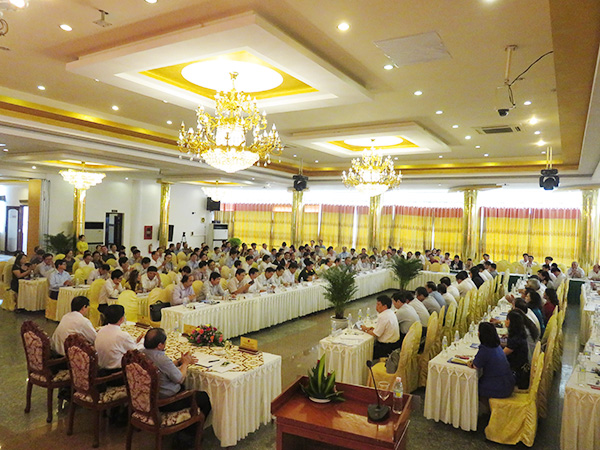 Business dialogue with Binh Dinh provincial leaders in 2016
The time for implementing procedures is significantly shortened compared to the Government's regulations. Investors are also informed to receive results in the case the procedure is completed before the deadline written in the receipt. Investors are also offered free consultation, specifically by phone or email and sending project documents by post without necessarily going to the Investment Promotion Center directly.
With strong determination of performing reform and transparency of administrative procedures on investment, Binh Dinh Provincial People's Committee has issued a Decision on the order and cooperation mechanism of implementing administrative procedures on investment outside industrial and economic zones in Binh Dinh province. In Binh Dinh, acceptable documents of investors are given more priority to handle in comparision with regular tasks of concerned departments and agencies so that time frame of investment procedures can be strictly followed.
In addition, Binh Dinh Investment Promotion Center focuses on open and transparent implementation of national guidelines and policies, especially policies to attract investment and administrative procedures, new policies, information on planning, plans and projects to help businesses access necessary information related to their business and production and seize investment opportunities. The procedures are publicly posted at the offices of agencies, on mass media and various websites of the concerned department ...
The Investment Promotion Center of Binh Dinh regularly contacts, meets, listens and promptly helps solve difficulties of businesses and investors. IPC is open to feedback and comments on the organization's service, constantly learns to acknowledge the weaknesses and shortcomings in its operations to repair and overcome them in the future.
Binh Dinh government endlessly improves the administrative procedures and working manner, from the provincial leaders to the officers of different departments. The authorities aims to work together to propose timely solutions for the requirements of businesses and investors, thereby creating more and more favorable business and investment environment.
Given such improvements, Binh Dinh has become an attractive destination for investors. It is believed that in the coming time, more investors and entrepreneurs will come to Binh Dinh to conduct surveys and learn about the business environment in the locality, to realize a province in the Central coast region with potentials and possibilities for investment and prosperity.
Binh Dinh Investment Promotion Center has been awarded the excellent performance certificate for many years by the provincial People's Committee, twice by the Prime Minister and the Ministry of Planning and Investment and an award at higher level is being considered.
With dynamic and professional staff, IPC Binh Dinh is always ready to serve investors and work alongside with domestic and foreign partners.