Binh Dinh holds Investment Promotion Conference in the United States
28/10/2019
At 14:00 pm 22/10 (local time), Binh Dinh Provincial People's Committee (PPC) and the Embassy of Vietnam in the United States held an Investment Promotion Conference for Binh Dinh province. The conference is expected to boost capital flow from US businesses into Binh Dinh province.
Mr. Phan Cao Thang, Binh Dinh PPC Standing Deputy Chairman delivers a talk
at the conference
The conference took place in Washington DC, USA and it is chaired by Mr. Phan Cao Thang, the PPC Standing Deputy Chairman; Mr. Pham Hung Tam, Deputy Ambassador of Vietnam in the United States; Mr. David Shear, Former US Ambassador to Hanoi; Mr. Bui Huy Son, Vietnam Trade Officer in the United States; Mr. Marc Meally, Vice President of Vietnam- America Trade Association.
The conference was attended by more than 50 delegates from 30 US businesses, significantly USA Samsung Company, 3M Multinational Technology Company, Westgate Real Estate and Tourism Group…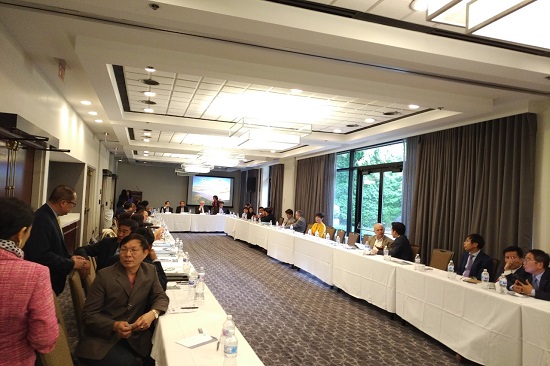 At the Conference, Mr. Phan Cao Thang, the Standing Deputy Chairman of the Provincial People's Committee asserted that the comprehensive partnership between Vietnam and the United States and had continued to develop effectively in all sectors and for the benefits of two nations' people, for peace, stability, cooperation and development regionally and globally. The United States is the world's largest offshore investor; the USA's transnational companies always set goals to look for potential markets when investing abroad. Also, most of the USA's businesses are multinational companies, large corporations, who have tremendous economic potential and operate in the fields that Binh Dinh we are in great need. Therefore, the province enthusiastically invites investment and business cooperation in areas where US investors have advantages such as: electronic component manufacturing, supportive industries for automobiles, seaport infrastructure, industrial park infrastructure, energy, tourism, forestry.
The Deputy Chairman mentioned five competitive advantages of the province compared to other localities of Vietnam: Binh Dinh is located in a strategic position in Southeast Asia, it is the nearest gateway to the East Sea of the sub-region of Mekong River region through Quy Nhon International Seaport, with convenient transport infrastructure including: roadway, railway, airway and seaway. Binh Dinh has abundant and high-quality human resources with over 55% population of working age, low labour cost and good skills. Binh Dinh has great potential and advantages to develop into a tourist centre of the Central Coast region. Being a land with a long history and culture, it still preserves various tangible and intangible cultural works. The province's economy in recent years has developed with an average GRDP growth rate of the national group and social security is guaranteed, which help to promote investment attraction and tourism development.
Also at the conference, the enterprises of the province such as PISICO, Saigon - Nhon Hoi Industrial Park Corporation also made a speech to invite cooperation and investment.
In the context of increasing tension of the USA - China trade, there are tremendous opportunities for Vietnam, including Binh Dinh. The successful conference is expected to create changes for foreign direct investment from the United States to Binh Dinh province.