The production line of Nhat Nam fertilizer factory (phase 1)
Accordingly, the total planned area is 90,050.2 m2. The items to be adjusted include administrative section from 300 m2 to 359 m2, garage from 96 m2 to 121 m2, canteen from 300 m2 to 316 m2, workshops 6, 6A (material warehouse) from 9,984 m2 to 8,800 m2, factory from 13,392 m2 to 9,259.5 m2, finished product warehouse from 10,800 m2 to 9,259.5 m2, houses for workers to take rest from 320 m2 to 546 m2, underground water tank from 80 m2 to 530 m2, greenery, water reservoir air conditioner, yards and roads from 12,101 m2 to 28,309.3 m2.
The planning also adds the construction items such as security house, weight station operation house, mechanical workshop, generator unit, garbage section, dust settling tank, dryer, boiler, tree pots, flagpole, fountains, water tanks with an area of 2,239.9 m2.
Investment approval was issued by the Provincial People's Committee for Nhat Nam fertilizer factory project in 2017 with an area of about 6 hectares. The project objective is to invest in the construction of a fertilizer factory to serve the agricultural sector in Binh Dinh province in particular and other surrounding areas in the South Central Coast and Highlands in general. When put into operation, the project is expected to make contribution to the social economic development, increase revenues for the provincial budget through tax payment. The project has total capital of VND 250 billion. Until 14th December 2019, Thanh Hung Production and Import - Export Joint Stock Company held the inauguration ceremony of the factory.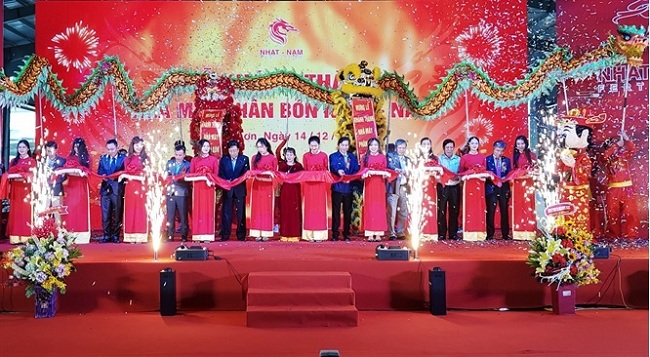 The inauguration ceremony of Nhat Nam fertilizer factory
On 27th February 2020, the Provincial People's Committee continued to approve the investment policy for Thanh Hung Production and Import-Export Joint Stock Company to expand its manufacturing factory in an area of about 3 hectares. The investment of this extension project is going to finish by the end of quarter 4 of the year 2020.