Announcement of PCI Index 2019: Binh Dinh ranked 19th nationwide
06/05/2020
Binh Dinh holds the position of 19/63 provinces and cities and ranks the fourth in the Central region after Da Nang, Quang Nam and Nghe An provinces. Compared to 2018, the province increased one position in the ranking of Provincial Competitiveness Index (PCI).
Accordingly, on 5/5/2020 in Hanoi, the Vietnam Chamber of Commerce and Industry (VCCI) in collaboration with the United States Agency for International Development (USAID) announced the Provincial Competitiveness Index in 2019. Five provinces and city of the top group include Quang Ninh, Dong Thap, Vinh Long, Bac Ninh and Da Nang.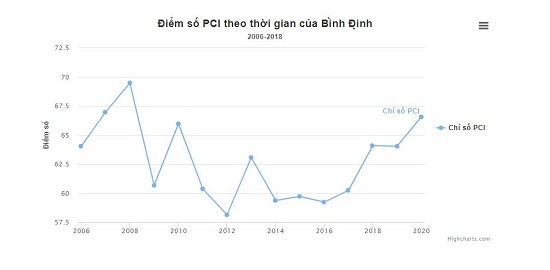 Binh Dinh Provincial Competitiveness Index ranking and scores over the years
In 2019, Binh Dinh province had an overall index score of 66.56 points on a 100 point scale (belonging to the Mid-High group), above the provinces of Thua Thien Hue, An Giang and Lam Dong, one position higher than in 2018. Of the ten subindices, 8 indices increased scores compared to the previous year, namely: Entry costs (8.03), Land access (7.11), Transparency (6.95), Informal charges (7.05), Policy bias (6.44), Proactive leadership (6.84), Labor policy (6.72), Law and order (6.81). Two indices with decreased scores include Time costs (6.57) and Business Support Services (5.61).
In order to improve the PCI ranking position, from May 3, 2019, Binh Dinh People's Committee has issued the Letter No.2275/UBND-TH regarding proposals of solutions to improve PCI ranking and focus is put on improving administrative procedures, improving the business environment, increase dialogues with businesses and promptly solving difficulties and problems of enterprises.
The PCI 2019 Report is the 15th annual publication developed and published by VCCI and USAID, to evaluate and rank the business environment and the quality of economic management of the provinces and cities in Vietnam. With the participation of nearly 12,500 businesses, PCI is the "voice gathering" of the domestic and foreign business community on the level of reform in each field of administration, the quality of administrative procedures and human resources and infrastructure in Vietnam.
Especially, for the first time, the PCI report 2019 analyzes the trend of automation and digitalization in goods manufacture, service provision of Vietnamese businesses and forecasts the impact of this trend on job creation and employment in the near future.
More information can be found at: https://www.pcivietnam.vn/ho-so-tinh/binh-dinh
OTHER NEWS:
» Two first projects granted investment certificates in June 2021 (04/06/2021)
» Binh Dinh attracts 12 new projects in May 2021 (01/06/2021)
» American investors are interested in preferential policies in Binh Dinh (14/05/2021)
» Two new manufacturing projects register to invest in industrial clusters (13/05/2021)
» Binh Dinh hosts an online conference on US investment promotion (05/05/2021)
» New FDI projects licensed in Hoa Hoi Industrial Park, bringing the total FDI capital attracted in early 2021 to 30 million USD (26/04/2021)
» Approving the investment policy of a factory producing woven polyrattan products, processing mechanical products and sewing mattresses (14/04/2021)
» Samsung Engineering makes a visit to Binh Dinh (12/04/2021)
» Binh Dinh: investment attraction in the first quarter of 2021 increases (05/04/2021)
» Binh Dinh to hold an online meeting with Izumisano city, Japan (22/03/2021)