Inaugurating the second phase Binh Dinh factory, Hoa Sen Group implements a long-term strategic plan in Binh Dinh
Ribbon cutting celebration to start Phase II of the factory
Previously, in October 2017, Hoa Sen Group inaugurated and put into operation the first phase of Hoa Sen Nhon Hoi factory with total capacity of 180,000 tons/year. In the second phase, the factory will be equipped with modern machinery and production lines of SMS - Germany and Tenova - Austria, with de-rusting line, acid regeneration line, cold rolling line, galvanizing line/zinc alloy, color coating line.
When the second phase is put into operation, the total capacity of the factory will reach 430,000 tons/year, providing good quality steel products manufactured on modern, standard European lines. Europe. With a closed production process and strict inspection from raw materials to finished products, products of Hoa Sen factory in Binh Dinh province meet all international standards and requirements of domestic and foreign markets.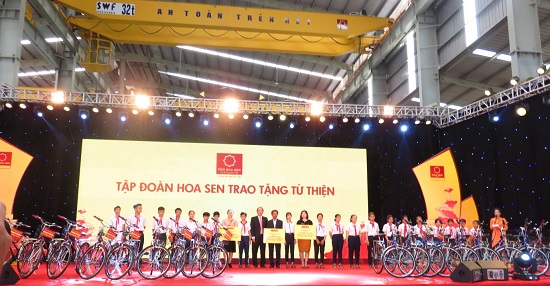 Hoa Sen Group presents bicycles to poor and studious students of Binh Dinh province
In the context of increasing trade protection policies of nations around the world, Hoa Sen Group not only improves its production and supply capacity but also focuses on protecting export markets; and has achieved very positive results in markets like Australia, Indonesia, Malaysia....
Significantly, in the Malaysian market, Hoa Sen Group is not determined to be dumping and it is the only enterprise in Vietnam to be exempted from anti-dumping duty on steel imported into Malaysia according to the conclusion of the Malaysian Ministry of Industry and International Trade (MITI) on March 13, 2019.
In the context of trade protection policies of countries that are currently popular trends, besides improving production and supply capacity, Hoa Sen Group also focuses on protecting export markets and Achieving very positive results in markets like Australia, Indonesia, Malaysia, ....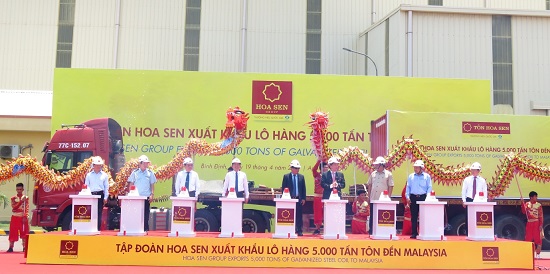 Hoa Sen factory in Nhon Hoi, Binh Dinh exports 5,000 tons of steel sheet to Malaysia
In addition, steel sheet products imported into Malaysia must comply with Malaysian Standard certified by SIRIM QAS International. In order to obtain this certification, Hoa Sen has undergone a strict evaluation process by representatives from SIRIM QAS International.
SIRIM QAS International also considers the Group's quality management system to ensure its consistent and continuous compliance with this organization's standard, along with ISO quality certificates, environmental hygiene factors and labor protection and safety.
On the basis of meeting the SIRIM (Malaysian) export standard and the advantages of import tax, Hoa Sen Group has continued to increase its export to Malaysia. On April 19, 2019, a shipment of 5,000 tons of steel sheet worth more than USD 4 million exported to Malaysia. The shipment is produced at Hoa Sen Nhon Factory, Binh Dinh and transported to Malaysia via Quy Nhon Port.
With existing advantages, great experience and the management board and staff's vision and determination, Hoa Sen Group will continue to create breakthrough developments and impressive results in the near future.