Royal Thai Consulate General and CP Corporation visit the province
01/10/2018
On the morning of September 26th 2018, at the office of the provincial People's Committee, the Royal Thai Consulate General in Ho Chi Minh City and CP Vietnam Livestock Joint Stock Company had a meeting with the leaders of the provincial People's Committee (PPC) and representatives of relevant departments on the occasion of visiting Binh Dinh.
Chairman of Binh Dinh ppc, mr Ho Quoc Dung and General Director of CP Vietnam Livestock Joint Stock Company - Mr. Montri Suwanposri signed an MOU
At the reception, Mr. Ho Quoc Dung, the PPC Chairman briefly introduced Binh Dinh Province, highlighting the potentials and advantages of the locality for Thai investors. He stressed that the application of technology in agriculture, aquaculture and fish processing in the province has been more and more popular. Cattle and poultry farming has been developing strongly; Binh Dinh is one of the counrtry's centers of cattle breeding and animal feed production. There are 15 big feed mills with well-known brands such as CP, CJ, Cargill, Proconco, New Hope ... With the advantages of animal feed mills, breeds, the locality is keen to build a slaughter and animal processing plant in Binh Dinh and cooperate in transferring livestock technology between enterprises and farmers to promote the production link and sustainable development.
According to Mr Phan Trong Ho, Director of the Department of Agriculture and Rural Development, the local government is encouraging technology application in animal husbandry and has established a hi-tech husbandry area in Nhon Tan commune, An Nhon town. With the growing number of high-quality cows, concentrated pig farms, good disease control, and incentive policies for concentrated animal slaughtering, investment in a food processing factory in Binh Dinh is very promising and is well recommended for CP corporation.
Mr Montri Suwanposri, General Director of CP Vietnam Livestock JS Company, said that CP corporation has invested in Vietnam for 25 years and is proud to contribute to the development of animal husbandry in Vietnam. The corporation is confident that food products manufactured and processed in Vietnam are competitive, clean and fresh, traceable and having good quality. With three projects in operation in the province at present, which includes a feed mill, a shrimp breeding farm and an outdoor apparel production plant, CP corporation strongly believes in its investment prospects in Binh Dinh province. In the coming time, the group will send experts to the province to evaluate food production business and plan for future investment.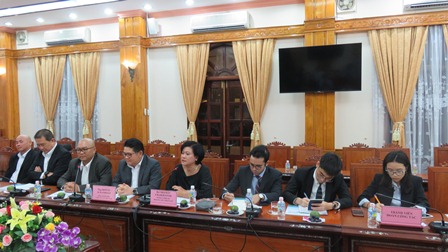 Madamn Ureerar Ratanaprukse - the Consul General congratulated the investment prospects of CP corporation in Binh Dinh
Witnessing such promising talks of Binh Dinh PPC leader and CP corporation, Ms. Ureerar Ratanaprukse - from Royal Thai Consul General in Ho Chi Minh City expressed her great pleasure about the business opportunity of Thai investors in Binh Dinh, and appreciated the information shared at the meeting. The Consul General affirmed that she would transfer the information to Thai investors and hoped the CP would soon study investment in a processing plant in the province.
At the end of the meeting, Chairman Ho Quoc Dung and Mr. Montri Suwanposri - General Director of CP Vietnam JS Company signed a memorandum of understanding to invest in a slaughter and animal processing plant in Binh Dinh in the presence of the Royal Consulate General of Thailand and representatives of concerned departments of Binh Dinh.
OTHER NEWS:
» The delegation of Izumisano city from Japan visited Binh Dinh (17/02/2020)
» Investment attraction in 2019 is a very good impetus for 2020 and subsequent years (07/01/2020)
» A delegation from Saxony Anhalt state, Germany explores investment opportunities in the province (25/11/2019)
» Samsung Engineering Co., Ltd. and the Association of Korean people in Vietnam explore investment opportunities (06/11/2019)
» Binh Dinh holds Investment Promotion Conference in the United States (28/10/2019)
» Binh Dinh Investment Promotion Delegation visits Vietnam's Embassy in Washington D.C (23/10/2019)
» Binh Dinh Province signs an agreement to establish friendship and cooperation with Izumisano city, Osaka Prefecture, Japan (23/10/2019)
» Binh Dinh opens wood furniture exhibition booth in High Point, USA (20/10/2019)
» Binh Dinh attracts more than 60 projects with total capital of over VND 25 trillion (18/10/2019)
» FPT builds a university in Quy Nhon city (11/10/2019)