The PPC Chairman Ho Quoc Dung and Mr. Kim Ji Jong, Chairman of smart city Incheon
At the meeting, Mr. Kim Ji-jong, Chairman of smart city Incheon, Incheon Free Trade Area, shared experiences with the delegation in building a smart city. In 2003, Incheon Free Trade Area was selected to convert to the first open economic area with three smart cities in Korea, including Songdo (city of information technology), Yeongjong (city of sea port and logistics) and Cheongna (city of credit and automobile industry).
Incheon Free Trade Area, Korea.
The city development is divided into three phases: the phase 2003 to 2009 is for the infrastructure construction of Incheon Free Trade Area, the phase 2010 to 2016 is for consulting people regarding the provision of services and the phase 2017-2022 continues to develop services and provide better services to people. Currently, large-scale local companies and global firms have increased their investment in Incheon Economic Area, including Samsung group, with the selection of Songdo International City as a new investment destination for its software industry. Songdo is the location of the offices of 13 international organizations, including eight organizations of the United Nations, the Green Climate Fund (GCF), an international financial organization under the United Nations which is dedicated to supporting developing countries in coping with carbon emissions and climate change, and the World Bank who provides loans to boost the economic growth of developing countries.
Also at the meeting, the PPC Chairman Ho Quoc Dung said that the renovation of infrastructure was a priority in Binh Dinh province with a focus in services such as tourism, transportation, information technology and some other sectors. The visit to Incheon Free Trade Area is a great opportunity for Binh Dinh leadership to learn experience in constructing their cities. The Chairman would like to learn about smart cities' models from leaders of Incheon and good experts of South Korea.
Mr. Kim Ji Jong expressed his pleasure to receive Chairman of Binh Dinh PPC and his team in Korea. He agreed to assign Incheon's excellent experts to share experience and assist Binh Dinh province's concerned departments in building a smart city. He said that through the Embassy of Vietnam in Korea and with the success of the investment promotion conference in Korea, many Korean businesses were interested in the Binh Dinh market, especially in supportive industries, clean water and high-quality agriculture.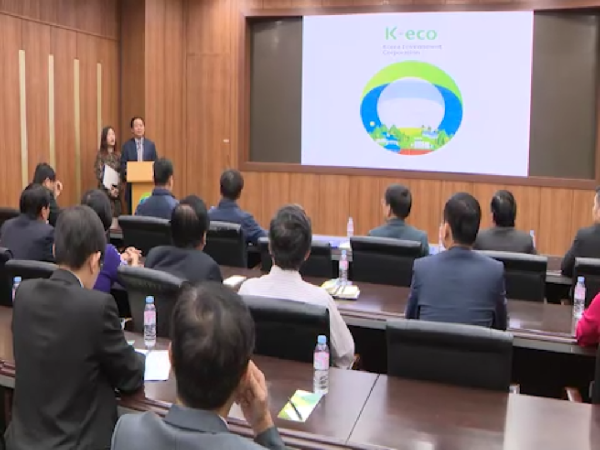 PPC Chairman Ho Quoc Dung delivered a talk at the meeting with K-eco company
On the same day, the Chairman and the delegation visited K-eco company under the Ministry of Environment of Korea. At the meeting, the company introduced its main activities and investment in environment in Vietnam and Korea.
The Chairman Ho Quoc Dung warmly thanked the information shared by Mr Kim Jae Jong and affirmed that Vietnam in general and Binh Dinh province in particular always considered Korea a reliable partner; at present, waste processing is one of the top priorities in Vietnam, therefore Binh Dinh leadership wished to have K-eco company share experience and support the province in environmental treatment. Binh Dinh always supports the activities of the company in Vietnam and invited K-eco company to cooperate in transferring environmental treatment technologies to the province and committed to create the best conditions for the company to cooperate with provincial firms.
On behalf of the company, Kim Jae Jwong pledged to send experts to Binh Dinh in order to survey the environment and waste treatment sites in the locality and to develop a long-term and sustainable treatment solutions.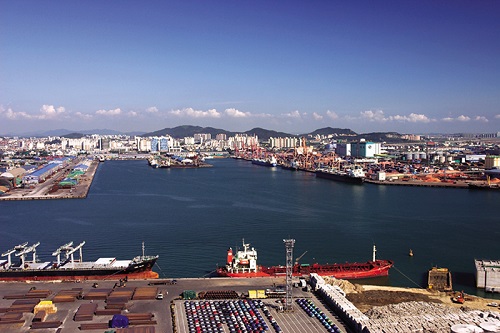 Incheon seaport, the biggest international port in western Korea
Đoàn công tác của tỉnh cũng đã đến thăm Cảng Incheon, cảng là cảng quốc tế hiện đang khai thác mọi hoạt động logicstic khu vực phía Tây của bán đảo Hàn Quốc, cảng có sức chứa 45 tàu có trọng tải 50.000 tấn một lúc và giao lưu với các CEO hiện đang tham gia lớp học nâng cao kiến thức về Việt Nam, tại đây chủ tịch UBND Hồ Quốc Dũng trở thành diễn giả giới thiệu bao quát tình hình kinh tế - đầu tư, văn hóa – xã hội của Việt Nam nói chung và Bình Định nói riêng, thông báo các doanh nghiệp Hàn Quốc về môi trường đầu tư và tận mắt nhìn thấy những tiềm năng của tỉnh Bình Định.
The delegation also visited Incheon Port, an international port that is currently operating all logistic activities in the western part of the Korean peninsula. The port is able to handle 45 vessels of 50,000 DWT at one time. The delegation had a great time meeting with the CEOs who were attending a workshop on understanding of Vietnam. Mr Quoc Dung briefed on an overview of economy, investment, culture and social life of Vietnam and of Binh Dinh province. He also informed Korean enterprises about the investment environment and strengths of Binh Dinh province.