Binh Dinh strengthens connection to Korea
31/05/2018
On 28th May 2018, Mr. Ho Quoc Dung, Chairman of Binh Dinh People's Committee and the investment promotion delegation of Binh Dinh province arrived in Korea and had the first meeting with Korea Industrial Technology Association (KOITA). The delegation was received by Mr Kim Ui Hwan, Vice President of KOITA and several members of the Association.
KOITA receives Binh Dinh province delegation
At the meeting, on behalf of the delegation, Mr Chairman Ho Quoc Dung introduced the potentials and strengths of Binh Dinh province and the projects that Korean businesses and investors were interested in. He expressed great thanks to the support of the Association, especially the preparation for the promotion program and the Investment Promotion Conference of Binh Dinh province in Seoul, Korea.
In response to Binh Dinh PC's Chairman, Mr. Kim Ui Hwan, Vice President of KOITA, highlighted recent achievements in socio-economic and investment development between Korea and Vietnam in general, Korea and Binh Dinh province in particular. He believed that with the existing potentials of the area and the active approach to investors, Binh Dinh would attract a great number of investors, including Korean investors. He revealed that knowing Binh Dinh PC's leader came to Korea, the businesses of the Association had sent numerous questions in order to find out more about Binh Dinh Province so that they could expand their investment.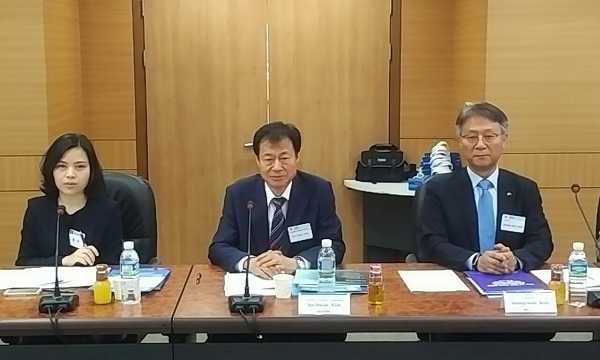 Mr Kim Ui Hwan, Vice President of KOITA (in the middle)
KOITA was established in 1979. To support technological innovation in companies, KOITA focuses on eight main activities: Improving technological policy system in industries, establishing and promoting the operation of companies' research centers (R & D), building a system of technological innovation, supporting the collaboration of three identities including industry – university - research institute, supporting training and individual training for technological innovation, increasing international cooperation in technology, supporting commercialization of technologies and ecosystem for technological innovation, and conducting surveys, researches and dissemination of information on technology.
After the meeting, the two sides agreed to assign concerning agencies to coordinate with Vietnamese Embassy in Korea to develop a comprehensive cooperation document, and KOITA is planning to make a visit to Binh Dinh in the autumn of this year.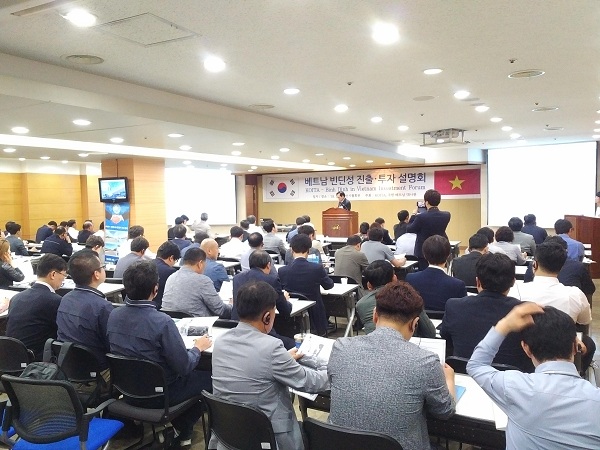 Binh Dinh investment promotion conference in Seoul, South Korea
Also within the framework of promotion activities, in the afternoon of 28th May 2018, at the KOITA office, Binh Dinh province held an investment promotion conference. More than 130 enterprises who were Korean enterprises and corporations interested in investing in Binh Dinh. A lot of questions relating to seaport system, transport infrastructure, human resource and investment procedures were raised by Korean businesses. At the conference, Mr Ho Quoc Dung granted the Investment Certificate for the electricity production from wind energy and solar energy for Seoul Energy Limited Company.
OTHER NEWS:
» The delegation of Izumisano city from Japan visited Binh Dinh (17/02/2020)
» Investment attraction in 2019 is a very good impetus for 2020 and subsequent years (07/01/2020)
» A delegation from Saxony Anhalt state, Germany explores investment opportunities in the province (25/11/2019)
» Samsung Engineering Co., Ltd. and the Association of Korean people in Vietnam explore investment opportunities (06/11/2019)
» Binh Dinh holds Investment Promotion Conference in the United States (28/10/2019)
» Binh Dinh Investment Promotion Delegation visits Vietnam's Embassy in Washington D.C (23/10/2019)
» Binh Dinh Province signs an agreement to establish friendship and cooperation with Izumisano city, Osaka Prefecture, Japan (23/10/2019)
» Binh Dinh opens wood furniture exhibition booth in High Point, USA (20/10/2019)
» Binh Dinh attracts more than 60 projects with total capital of over VND 25 trillion (18/10/2019)
» FPT builds a university in Quy Nhon city (11/10/2019)