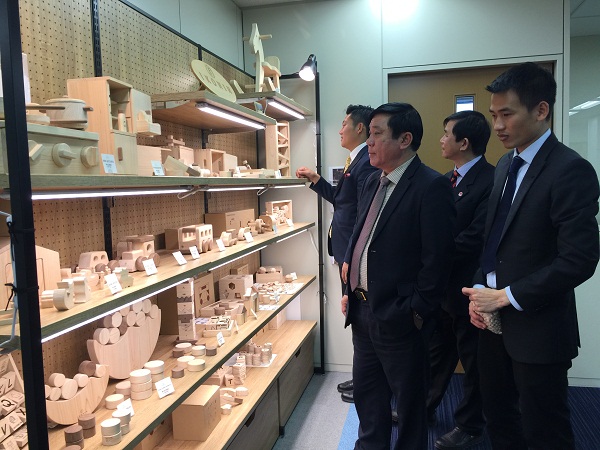 Meeting and visit to see toy products at Marubeni company
In the first few days, the delegation visited the office of Marubeni Company, which is specialized in processing industrial wood products. At present, the company has invested in a wood processing factory in Nhon Hoi Economic Zone and the factory will go into operation by the end of April. At the meeting, Mr. Takimoto Jo, Director of Marubeni Lumber Vietnam Co., Ltd, asserted that the company would produce toys for children called IKONIH, which were made from Hinoki wood, in Binh Dinh province in the upcoming future. Hinoki wood is a precious wood grown in Japan for a period of up to 50 years to be exploited; it is very light and has anti-bacterial property and is safe for children.
The delegation took a visit to an organic vegetable plant of Kanemassa, one of the leading companies of vegetable care and preservation in Japan. In the near future, the company will arrange time to come to Binh Dinh to explore investment environment.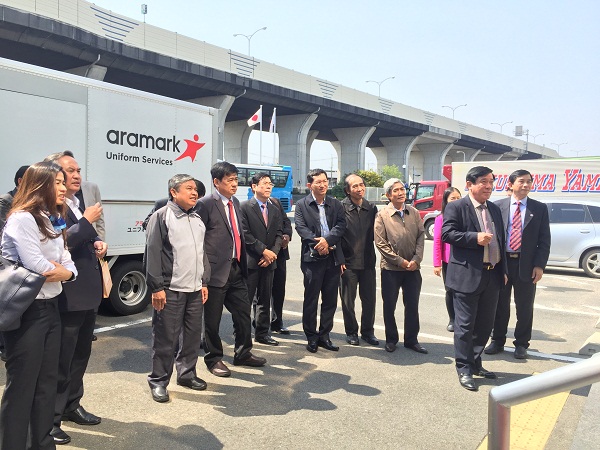 The delegation took a visit to an organic vegetable plant
After that, the delegation visited Sanicon, a group specialized in supplying domestic water purification systems, wastewater treatment systems and related maintenance services. In Binh Dinh, Sanicon has installed a high-tech water purification system in accordance with international standards for Hai Au Hotel and awarded a water purifier for emergency cases to the International Centre for Interdisciplinary Science and Education (ICISE).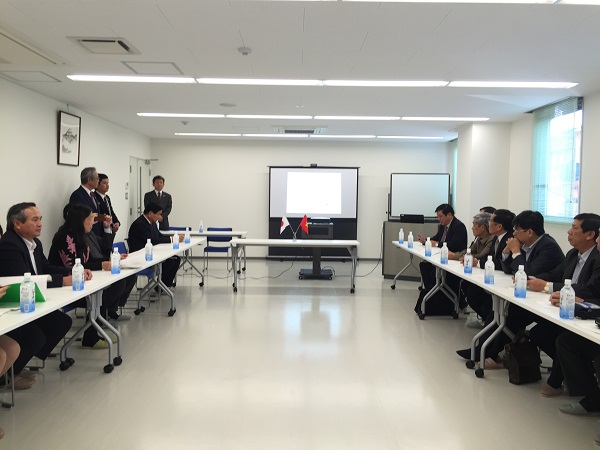 Meeting at Sanicon company
The delegation also paid a courtesy visit to Mr Osami Takeyama, Mayor of Sakai City. Mr Nguyen Thanh Tung, Secretary of the Provincial Party Committee greatly thanked the Mayor for his support in expansion of connection and economic cooperation between Binh Dinh and Japanese partners. Mr Secretary kindly invited Mr. Osami Takeyama to arrange a visit to Binh Dinh. Mr. Osami Takeyama thanked the invitation and proposed organizing an experience exchange trip in health care between Sakai city hospital and Binh Dinh provincial hospital.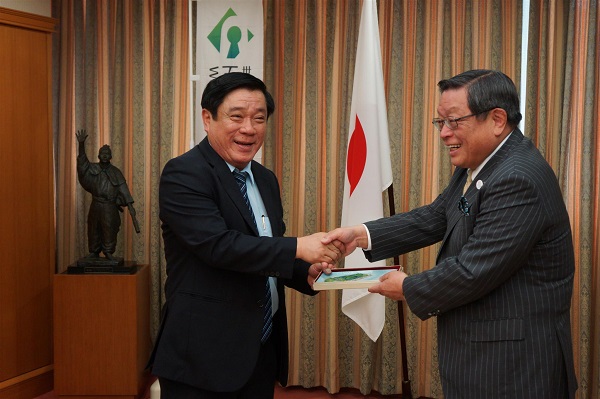 Asahi newspaper reported the meeting between Binh Dinh province's Secretary and Osami Takeyama, Mayor of Sakai city.
Mr Osami Takeyama, Sakai city's Mayor (third from the left) hosts Binh Dinh delegation.
The delegation visited the Consulate General of Vietnam in Osaka. On behalf of the delegation, Mr Nguyen Thanh Tung expressed deep appreciation to the Consulate General of Vietnam in Osaka for helping the province expand economic collaboration with Japanese partners through the investment promotion conference of Binh Dinh at the headquarter of the Consulate General.
At the Consulate General of Vietnam in Osaka, Binh Dinh province held an investment promotion conference attended by nearly 50 enterprises, representatives of the city's associations of industry and trade, and banks of Japan. Mr. Tran Chau, Vice Chairman of the Provincial People's Committee briefed on potentials and strengths of Binh Dinh. At the end of the conference, Katsura Wood Material Joint Stock Company specialized in precut processing of housing materials and Kanehisa Joint Stock Company specialized in import and export registered to come to Binh Dinh 27th to 29th April 2018.