The largest project of Japanese investors in Binh Dinh officially breaks ground
05/04/2018
On 03/04/2018, at the west of Phuong Mai mountain slope in Nhon Hoi Economic Zone, Fujiwara Binh Dinh Co., Ltd. (owned by Fujiwara Co., Ltd. in Japan) held a ground breaking ceremony for its solar and wind power plant in Binh Dinh province.
Ground breaking ceremony of the project

Speaking at the ceremony, Mr. Phan Cao Thang - Vice Chairman of Binh Dinh provincial People's Committee asserted that Fujiwara Binh Dinh solar and wind power plant will greatly boost clean energy development in Vietnam, increasing the electricity supply of the national grid, directly serving Nhon Hoi Economic Zone and creating a new image of Binh Dinh province. The project will create more job opportunities and significantly generate revenue for the locality. At the same time, the provincial leader also directed the Economic Zone Administration to coordinate with related departments and Quy Nhon city People's Committee to give the best support for the investor so that the procedures can be completed and the construction started in accordance with the registered schedule.
This is the first solar and wind power project to be constructed in Binh Dinh. Besides, this is also the biggest project of a Japanese investor in Binh Dinh province. The project has total capital of more than USD 63 million with estimated capacity of 100 MW. Phase 1 of the project will be implemented on an area of 60 ha in Nhon Hoi Economic Zone. The owner committed to put the first phase of the project into operation by February 2019. Phase 2 of the project is expected to be carried out at Nui Ba mountain slope, Tan Thanh village, Cat Hai commune, Phu Cat district with a capacity of 36MW; and it is expected to go into operation in February 2020.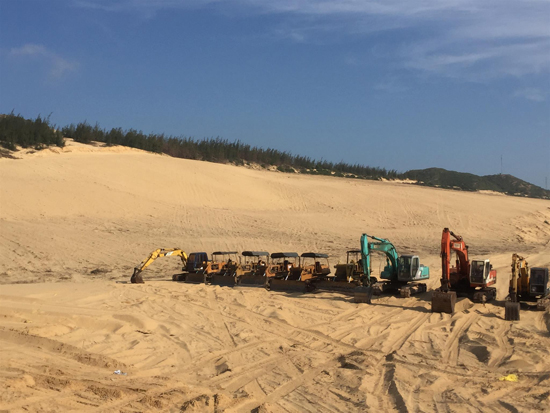 Part of the land for the first phase of the project

Currently, Binh Dinh is promoting investment in renewable energy and Department of Industry and Trade has been assigned to develop a plan for solar power and wind power development to 2020 with a vision to 2030.

OTHER NEWS:
» The delegation of Izumisano city from Japan visited Binh Dinh (17/02/2020)
» Investment attraction in 2019 is a very good impetus for 2020 and subsequent years (07/01/2020)
» A delegation from Saxony Anhalt state, Germany explores investment opportunities in the province (25/11/2019)
» Samsung Engineering Co., Ltd. and the Association of Korean people in Vietnam explore investment opportunities (06/11/2019)
» Binh Dinh holds Investment Promotion Conference in the United States (28/10/2019)
» Binh Dinh Investment Promotion Delegation visits Vietnam's Embassy in Washington D.C (23/10/2019)
» Binh Dinh Province signs an agreement to establish friendship and cooperation with Izumisano city, Osaka Prefecture, Japan (23/10/2019)
» Binh Dinh opens wood furniture exhibition booth in High Point, USA (20/10/2019)
» Binh Dinh attracts more than 60 projects with total capital of over VND 25 trillion (18/10/2019)
» FPT builds a university in Quy Nhon city (11/10/2019)