German investors to explore investment environment in the province
21/12/2017
On December 13th 2017 at the Office of the Provincial People's Committee, Vice Chairman of the Provincial People's Committee Tran Chau and other departments had a meeting with Mr Peter Harms, the Chief Executive Officer (CEO), President of the Management Board of Lohharterei GmbH company and Mr. Udo Schmidt - CEO, President of the Management Board of Vebos AG company from Federal Republic of Germany.
Mr Peter Harms, CEO of Harm Lohharterei GmbH (standing left) made a presentation at the meeting.
At the meeting, investors proposed to invest in waste incineration plants for power generation, ship engine manufacturing plants, shipyards and wind power plants. According to Mr. Udo Schmidt, CEO of Vebos AG company, in the near future, the company will build a waste incineration project in a closed process; waste is burned by smokeless heat instead of using traditional burning method, and then converted to electricity for consumption.
Regarding the ship engine manufacturing project, Mr Peter Harms, CEO of Harm Lohharterei GmbH expressed wishes to invest in a factory specialized in assembling marine engines using German technology in order to supply for shipyards and fishermen in Binh Dinh as well as in the whole country.
After implementing these two projects, German enterprises will continue to invest in ship building and wind power industries.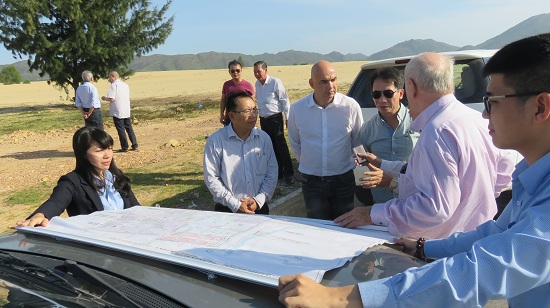 The investors survey Nhon Hoi Economic Zone
After the meeting, the Department of Planning and Investment and some concerned departments took the investors to survey at Long My waste treatment area implemented by Quy Nhon Urban Environment Joint Stock Company and the area planned for the waste treatment plant the industrial park A - Nhon Hoi Economic Zone so that investors gain some primary understanding of the existing situation.
OTHER NEWS:
» Adjusting the 1/500 planning scale of Nhat Nam fertilizer factory (19/05/2020)
» Announcement of PCI Index 2019: Binh Dinh ranked 19th nationwide (06/05/2020)
» Approving the 1/500 detailed planning of Phu Hau - Cat Tien amusement park (04/05/2020)
» Tan Dai Minh Investment Limited Company makes more investment in social housing (17/04/2020)
» Approving 1/2000 construction planning of Becamex A Industrial - Urban park (Sub-zone 7), Nhon Hoi Economic Zone (16/04/2020)
» Minh Du company invests in a new poultry breeding project applying 4.0 technologies (10/04/2020)
» Investing in a coconut fiber manufacturing factory in Hoai Nhon district (12/03/2020)
» More social housing in Quy Nhon city for local people (09/03/2020)
» Approving the planning scale 1/500 of Qui Phuoc Logistics Service Center (24/02/2020)
» The delegation of Izumisano city from Japan visited Binh Dinh (17/02/2020)