Binh Dinh attends Da Nang Investment 2017
24/10/2017
On 15th October 2017, Invest Da Nang 2017 Forum was held in Da Nang with participation of Prime Minister Nguyen Xuan Phuc and more than 1000 guests who are representatives of foreign diplomatic agencies in Vietnam, leaders of the central government, leaders of the central provinces and cities, investment promotion and trade organizations and domestic and foreign enterprises. It is an important event in support of the APEC High-level Week 2017 to be hosted in the beginning of November in Da Nang.
Prime Minister Nguyen Xuan Phuc delivers a speech at the Forum
At the forum, leaders of Da Nang introduced key projects the city is luring investment in infrastructure, hi-tech agriculture, information technology, tourism, health care, education and requested the central government to issue incentive policies in order to enable major breakthrough in Da Nang. Many guests, specialists and investors presented comments and opinions on investment environment of Da Nang.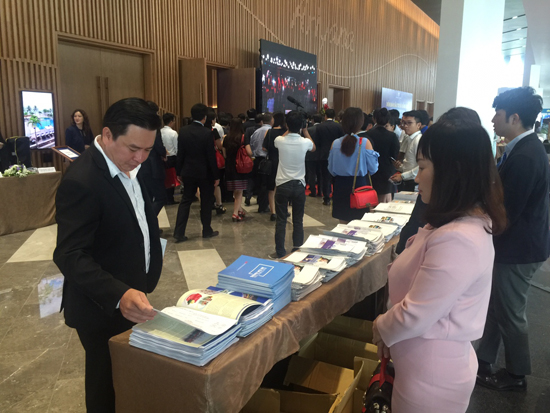 Introduction books on Binh Dinh province are offered at the Forum
In his speech, Prime Minister Nguyen Xuan Phuc appreciated great efforts and achievements Da Nang has gained; he emphasized that after 20 years of being a city under the central government, Da Nang has achieved outstanding socio-economic growth and essential indicators, especially has led the ranking of Provincial Competitiveness Index (PCI) for four years.
At the Forum, the City People's Committee of Da Nang granted Investment registration certificate, approval of investment and approval for investment investigations and several banks signed funding agreements for 27 projects with total capital of VND 32,292 billion.
Binh Dinh Investment Promotion Centre attended the Forum and introduced booklets on Binh Dinh and projects needing investment in infrastructure, agriculture, fisheries, tourism, health care, education, supportive industries…
OTHER NEWS:
» Approving the 1/500 scale planning of Thi Nai sea port warehousing service center and seafood processing area (16/06/2020)
» Regulations on selecting investors of social housing projects in Binh Dinh province (10/06/2020)
» Approving investment proposals of 2 projects in Phu Tai Industrial Park (08/06/2020)
» Adjusting the 1/500 planning scale of Nhat Nam fertilizer factory (19/05/2020)
» Announcement of PCI Index 2019: Binh Dinh ranked 19th nationwide (06/05/2020)
» Approving the 1/500 detailed planning of Phu Hau - Cat Tien amusement park (04/05/2020)
» Tan Dai Minh Investment Limited Company makes more investment in social housing (17/04/2020)
» Approving 1/2000 construction planning of Becamex A Industrial - Urban park (Sub-zone 7), Nhon Hoi Economic Zone (16/04/2020)
» Minh Du company invests in a new poultry breeding project applying 4.0 technologies (10/04/2020)
» Investing in a coconut fiber manufacturing factory in Hoai Nhon district (12/03/2020)