Bamboo Airways (BAS) opens office in Binh Dinh
31/08/2017
Bamboo Airways (BAS), invested by Viet Bamboo Airlines Ltd. Company of FLC group, has selected Phu Cat airport a venue for its flights to land and take off, expectedly to start by the beginning of 2019.
Bamboo Airways (BAS) - Picture supplied by the investor
According to the document submitted, the project has total capital of VND 700 billion (approximately USD 31 million) invested by the owner's equity. BAS combines legacy/full-services carriers and low cost carriers in order to provide the most reasonable services for customers and increase its competitiveness.
In the early stage, BAS will employ Airbus A320/A321 planes to provide short flights of 1.5 to 2 hours. It is planned that by 2023, BAS will provide 24 domestic routes and 16 international routes, which means 54 domestic flights and 16 international flights per day averagely to the places such as Ho Chi Minh, Ha Noi, Thanh Hoa, Quang Ninh, Phu Quoc, Hai Phong, Taiwan, Korea, Macau, Japan… The target is to hold 3% - 5% of the domestic and international market share of the passenger airline market in Vietnam.
When going into effective operation, the project will contribute more than USD 52 million for the state budget, with USD 49 million from VAT and USD 3.4 million from corporate income tax.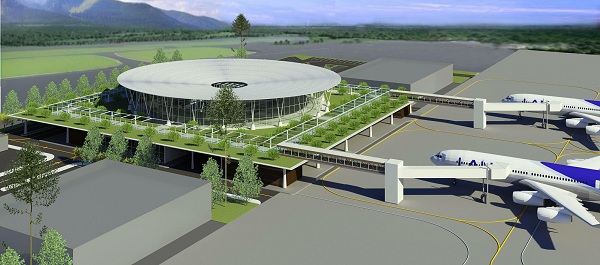 Perspective of expanded Phu Cat airport
Phu Cat airport is located in Phu Cat district, Binh Dinh province, 35 km from Quy Nhon city to the northwest. At present, the airport is being upgraded to handle 600 passengers at peak time, design capacity of 1.5 million passengers per year and possibly to 2.4 million passengers per year; and handle 07 landing sites for Airbus planes at peak time.
OTHER NEWS:
» Adjusting the 1/500 planning scale of Nhat Nam fertilizer factory (19/05/2020)
» Announcement of PCI Index 2019: Binh Dinh ranked 19th nationwide (06/05/2020)
» Approving the 1/500 detailed planning of Phu Hau - Cat Tien amusement park (04/05/2020)
» Tan Dai Minh Investment Limited Company makes more investment in social housing (17/04/2020)
» Approving 1/2000 construction planning of Becamex A Industrial - Urban park (Sub-zone 7), Nhon Hoi Economic Zone (16/04/2020)
» Minh Du company invests in a new poultry breeding project applying 4.0 technologies (10/04/2020)
» Investing in a coconut fiber manufacturing factory in Hoai Nhon district (12/03/2020)
» More social housing in Quy Nhon city for local people (09/03/2020)
» Approving the planning scale 1/500 of Qui Phuoc Logistics Service Center (24/02/2020)
» The delegation of Izumisano city from Japan visited Binh Dinh (17/02/2020)