New investment of VND 1,978 billion in urban area in southern Hung Vuong street
14/08/2017
Recently, the Provincial People's Committee issued an approval for Hung Thinh corporation to implement the urban area construction in southern Hung Vuong street at the area 6, Nhon Phu ward, Quy Nhon city.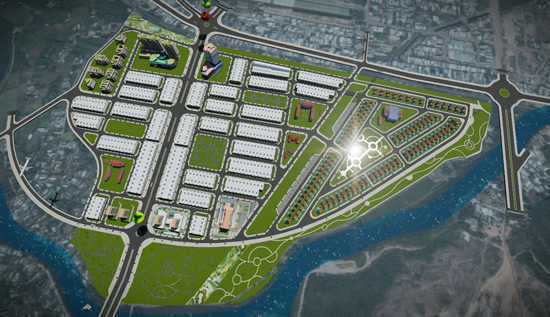 A perspective of the urban area in southern Hung Vuong street
According to the project document, the new urban area covers 672,090 m2, total capital of VND 1,978 billion. The construction is planned to start in quarter 4/2017 and complete in quarter 2/2023.
The project objectives are to establish a modern residence area with comprehensive infrastructure of water supply, power supply, green environment and good convenience; independent houses, apartment building and public sections such as administrative section, kindergarten, schools and parks will be constructed in the complex.
When completed, the project will meet the housing demand of people in Quy Nhon city. It is part of the planning of Quy Nhon city in its modernization process.
This is the third project of Hung Thinh corporation in Binh Dinh. Previously, the corporation was licensed for Bong Hong Residence Area in Ghenh Rang, Quy Nhon city and a Hotel Complex project in Tam Quan town, Hoai Nhon district.
Hung Thinh corporation, which has the head office in Ho Chi Minh city, is known as one of the leading investor in real estate. The founder of Hung Thinh corporation comes from Binh Dinh province.
At present, Hung Thinh corporation is studying to make more investment in Quy Nhon city.
OTHER NEWS:
» Adjusting the 1/500 planning scale of Nhat Nam fertilizer factory (19/05/2020)
» Announcement of PCI Index 2019: Binh Dinh ranked 19th nationwide (06/05/2020)
» Approving the 1/500 detailed planning of Phu Hau - Cat Tien amusement park (04/05/2020)
» Tan Dai Minh Investment Limited Company makes more investment in social housing (17/04/2020)
» Approving 1/2000 construction planning of Becamex A Industrial - Urban park (Sub-zone 7), Nhon Hoi Economic Zone (16/04/2020)
» Minh Du company invests in a new poultry breeding project applying 4.0 technologies (10/04/2020)
» Investing in a coconut fiber manufacturing factory in Hoai Nhon district (12/03/2020)
» More social housing in Quy Nhon city for local people (09/03/2020)
» Approving the planning scale 1/500 of Qui Phuoc Logistics Service Center (24/02/2020)
» The delegation of Izumisano city from Japan visited Binh Dinh (17/02/2020)