Sanicon company supplies drinking water and waste water treatment solutions of Japanese technology in Binh Dinh
09/08/2017
On the morning of 3rd August 2017, Sanicon Binh Dinh Vietnam Ltd. Company (Sanicon Binh Dinh) had an opening ceremony and introduced the company's products. The event was attended by the Provincial People's Committee (PPC) Deputy Chairman Phan Cao Thang and many representatives of relevant departments and guests of the company. Up to present, the Construction Joint Stock company 47 is the first client of Sanicon company to install a drinking filtration system at Seagull hotel where guests can use pure water right at the taps of the hotel.
Ribbon cutting ceremony of Sanicon Binh Dinh company
Sanicon Binh Dinh Company, established in February 2017, belongs to Sanicon Joint Stock company located in Japan. The company registers to operate in service, trade and consulting, in which the company's main sector is installing water supply systems, heaters and air conditioning.
Established in 1972 in Japan, Sanicon JS Company specializes in supplying domestic water purification system, waste water treatment system and related maintenance services. With long lasting experience, the investor has great desire to provide Japanese technology and advanced solutions in water treatment for Vietnam market.
On behalf of Binh Dinh province, the Deputy Chairman Phan Cao Thang appreciated wonderful effort of the company in organizing the event and the active collaboration of the Construction Joint Stock company 47 with the company. Currently, Binh Dinh has high demand for drinking water and waste water treatment products of the company and trusts the investor's experience in this area.
At the opening ceremony, Sanicon Binh Dinh presented a drinking purification system used in urgency situations for the International Center for Interdisciplinary Science and Education (ICISE).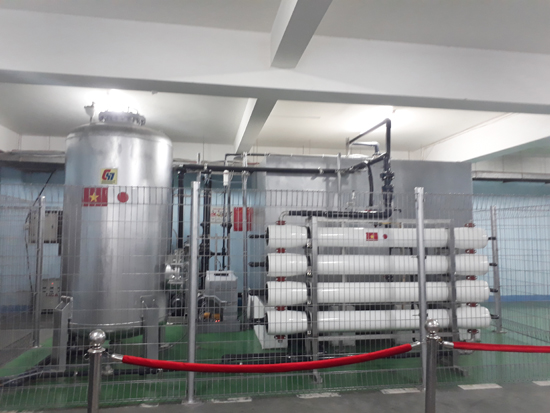 The drinking purification system installed by Sanicon company at the Seagull hotel
In the same morning, at Nhon Hoi Economic Zone, Marubeni Lumber Vietnam Limited Company (Japan) held the ground breaking ceremony for their plant.
It is obvious that Japan is becoming an important partner of Binh Dinh in term of the number of projects and capital amount registered. Significantly, out of the six foreign direct investment (FDI) projects licensed in the first six months in 2017, 04 projects are of Japanese investors. So far, there are 11 Japanese projects (only after China-Hong Kong-Taiwan with 15 projects) out of 73 FDI projects in operation with total capital of USD 92 million.
OTHER NEWS:
» Adjusting the 1/500 planning scale of Nhat Nam fertilizer factory (19/05/2020)
» Announcement of PCI Index 2019: Binh Dinh ranked 19th nationwide (06/05/2020)
» Approving the 1/500 detailed planning of Phu Hau - Cat Tien amusement park (04/05/2020)
» Tan Dai Minh Investment Limited Company makes more investment in social housing (17/04/2020)
» Approving 1/2000 construction planning of Becamex A Industrial - Urban park (Sub-zone 7), Nhon Hoi Economic Zone (16/04/2020)
» Minh Du company invests in a new poultry breeding project applying 4.0 technologies (10/04/2020)
» Investing in a coconut fiber manufacturing factory in Hoai Nhon district (12/03/2020)
» More social housing in Quy Nhon city for local people (09/03/2020)
» Approving the planning scale 1/500 of Qui Phuoc Logistics Service Center (24/02/2020)
» The delegation of Izumisano city from Japan visited Binh Dinh (17/02/2020)