The investment promotion team of Becamex IDC Corp visits Binh Dinh
26/07/2017
On 19th July 2017, at the Provincial People's Committee, Chairman Ho Quoc Dung and Deputy Chairman Phan Cao Thang and leaders of concerned departments had a meeting with the visiting team of Becamex IDC Corporation led by Mr Pham Ngoc Thuan, Vice CEO and specialists from Europe, Asia including Korea, Japan, Thailand… and domestic investors.
Mr Pham Ngoc Thuan, Deputy CEO of Becamex IDC Corporation (third from the left) and international specialists
At the meeting, Chairman Ho Quoc Dung briefed on the socio-economic situation of Binh Dinh and revealed that the Prime Minister has issued a Decision to add the Service - Industry - Urban Area complex in Canh Vinh, Van Canh, area of 2,308 hectares to Nhon Hoi Economic Zone, raising the total area of this Economic Zone to 14,308 hectares so that investment there can benefit the highest incentives. The locality is boosting infrastructure construction connecting Van Canh route to Quy Nhon city in order to facilitate transportation of goods from Becamex to Quy Nhon city. Phu Cat airport is also being upgraded to function as an international airport with flight to many countries in the world.
Mr Pham Ngoc Thuan and the team offered ideas for attracting foreign investment, he emphasized the importance of making close collaboration among agencies and departments and creating favourable conditions for investors in term of administrative procedures, tax schemes… Representative of Becamex IDC raised questions of land clearance, transport, supply of high quality human resource for enterprises who invest in Binh Dinh, airport and sea ports' operation, environment issues, investment certificate issuance time, how Binh Dinh can attract more investors from Thailand, Japan…, remarkable advantages of the locality and the plan of generating unique attractions for tourists…
The PPC leadership responded to all the questions and concerns of the visiting team and committed to providing all needed support to accelerate the implementation of Becamex Service - Industry - Urban Area in Binh Dinh.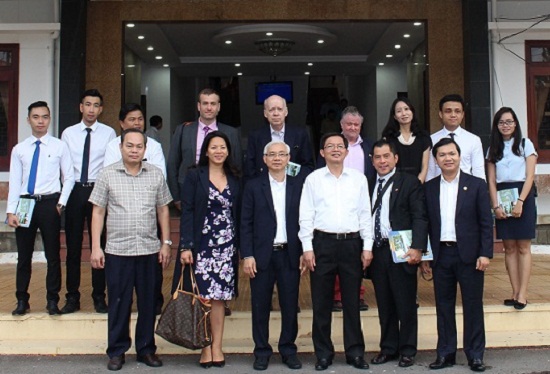 PPC Chairman Ho Quoc Dung (first row, third from the right) and Becamex IDC visiting team.
OTHER NEWS:
» Adjusting the 1/500 planning scale of Nhat Nam fertilizer factory (19/05/2020)
» Announcement of PCI Index 2019: Binh Dinh ranked 19th nationwide (06/05/2020)
» Approving the 1/500 detailed planning of Phu Hau - Cat Tien amusement park (04/05/2020)
» Tan Dai Minh Investment Limited Company makes more investment in social housing (17/04/2020)
» Approving 1/2000 construction planning of Becamex A Industrial - Urban park (Sub-zone 7), Nhon Hoi Economic Zone (16/04/2020)
» Minh Du company invests in a new poultry breeding project applying 4.0 technologies (10/04/2020)
» Investing in a coconut fiber manufacturing factory in Hoai Nhon district (12/03/2020)
» More social housing in Quy Nhon city for local people (09/03/2020)
» Approving the planning scale 1/500 of Qui Phuoc Logistics Service Center (24/02/2020)
» The delegation of Izumisano city from Japan visited Binh Dinh (17/02/2020)