Vung Chua, a promising place for investors
25/07/2017
Located 500m above the sea level, considered to be the most peaceful place for seeing the sunrise and with nice cool weather all the year around, Vung Chua mountain is a promising place itself for investors to implement an ecotourism resort in Quy Nhon city.
Quy Nhon city from Vung Chua view - Le Ho Bac's picture

For such a long time, Vung Chua is a wonderful place for young backpackers who love exploration. They come here not only to climb mountains, watch sunset and admire the wild nature… They come to challenge their resilience with hiking, mountaineering themselves. Nowadays, people can reach the top of Vung Chua by cars or motorbikes also.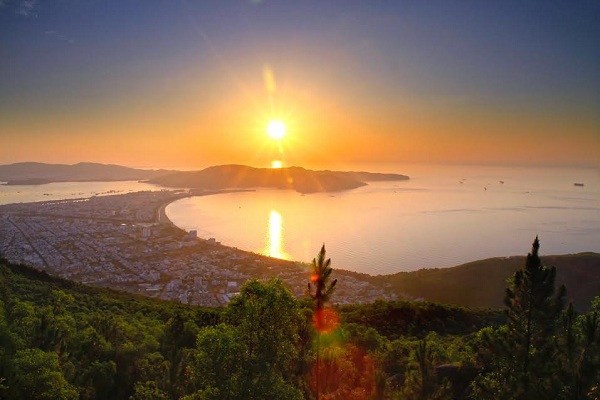 Sunrise on Vung Chua - Le Ho Bac's picture

Vung Chua has a diverse eco-system with numerous underground streams; it is named "green lung" of Quy Nhon city. The nature here attracts very many people due to its unique beauty and wildness. From the top of Vung Chua, people can admire the whole city of Quy Nhon, also expand eyes to Thi Nai lagoon where the longest bridge spans and watch the Eastern sea further away.
Despite the mountainous topography, there are thousands of hectares of flat area which is good for implementing investment. Possible activities to be developed for projects in Vung Chua include cable car system, mountain climbing, adventurous activities, eco-tourism… all the investment will enable to create an amazing site for the increasing number of tourists in Binh Dinh.
OTHER NEWS:
» Adjusting the 1/500 planning scale of Nhat Nam fertilizer factory (19/05/2020)
» Announcement of PCI Index 2019: Binh Dinh ranked 19th nationwide (06/05/2020)
» Approving the 1/500 detailed planning of Phu Hau - Cat Tien amusement park (04/05/2020)
» Tan Dai Minh Investment Limited Company makes more investment in social housing (17/04/2020)
» Approving 1/2000 construction planning of Becamex A Industrial - Urban park (Sub-zone 7), Nhon Hoi Economic Zone (16/04/2020)
» Minh Du company invests in a new poultry breeding project applying 4.0 technologies (10/04/2020)
» Investing in a coconut fiber manufacturing factory in Hoai Nhon district (12/03/2020)
» More social housing in Quy Nhon city for local people (09/03/2020)
» Approving the planning scale 1/500 of Qui Phuoc Logistics Service Center (24/02/2020)
» The delegation of Izumisano city from Japan visited Binh Dinh (17/02/2020)