Representatives attend the ground breaking ritual of CJ Vina Agri Binh Dinh plant
The plant is constructed in an area of 4.1ha, capacity of 324,000 tonnes/year, capital of VND 448 billion. Modern production line employed is to be imported from Europe and the quality management system closely controlled in line with international standard. The factory is expected to go into operation by the end of December 2017.
According to Mr Kim Sun Kang, CEO of CJ Vina Agri Co., Ltd. This is the 6th plant in Vietnam, after a series of plants in provinces of Long An, Hung Yen, Vinh Long, Dong Nai, Ha Nam constructed by CJ group. The investment in CJ Vina Agri Binh Dinh plant will enable the group to expand its supply chain effectively. The CJ Vina Agri Co., Ltd. commits to constantly improve technology and management in order to provide good quality products with reasonable price to customers, the target is to supply 1.2 million tonnes of poultry and animal feed in 2017.
At the ceremony, a representative of CJ group donated VND 100 million to the Provincial Committee of the Vietnam Fatherland Front in order to support people on the flood area.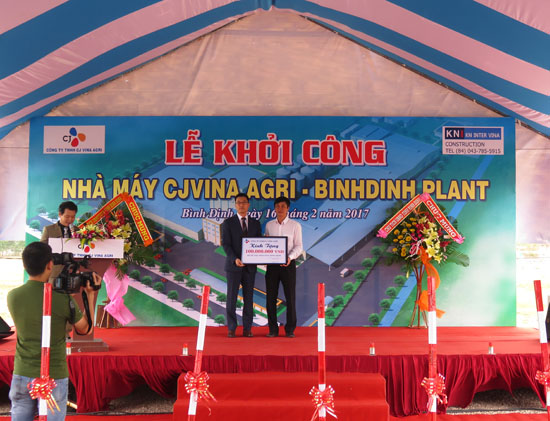 Mr Kim Sun Kang - Representative of CJ group donated VND 100 million to support people on the flood area.
Survey for screens of the film "Forever young 3"
On 16th February 2017, Mr Chang Bok Sang – the President of CJ Vietnam, the Director of CJ E&M Broadcasting Division and the Director of CJ E&M Film Division made a survey in order to prepare for filming tourism venues in Binh Dinh.
Representatives of Departments: Tourism, Culture, Planning and Investment and Economic Zone Administration accompanied CJ team to survey 04 well-known destinations in Binh Dinh, namely Twin Towers, Trung Luong - Cat Tien beach, Linh Phong Pagoda Spiritual and Historical Tourism complex, FLC Quy Nhon Hotel and Resort Complex, Eo Gio beach.
During the trip, Mr Jung Tae Sun Director of CJ E&M Film Division commented "Usually in order to make a film, the production team must go to many different places to choose screens for the film. In Binh Dinh, the nature is so diverse with beautiful forests, hills and beach and the landscape is gorgeous; therefore, there is no reason not choosing this place".
Survey material areas for export
On the same day, the Deputy of Department of Agriculture and Rural Development supported the CJ team including the sales manager, export manager and some other members in surveying material areas.
The survey is aimed to find material areas of fruit, seaweed, vegetables and other forestry agriculture and forestry products in 02 communes of Cat Hiep and Cat Lam of Phu Cat district and ocean tuna in Tam Quan Bac commune, Hoai Nhon district.