Binh Dinh Province welcomes investment and cooperation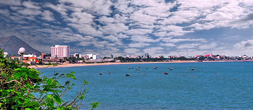 Binh Dinh Province lies on the coast of South Central Vietnam, bordering Quang Ngai Province (to the north), Phu Yen Province (to the south), Gia Lai Province (to the west), and South China Sea (to the east), 1,065km south of Ha Noi, 686km north of Ho Chi Minh City, 300km south of Da Nang City, and 300km east of Bo Y Border Gate to Laos in Kon Tum Province.
Binh Dinh has a natural area of 6025 km2, a population of 1.6 million and comprises 1 city and 10 districts (3 mountainous districts)
Quy Nhon City, the provincial capital, is a first - grade city, 284.28 km2 and more than 284,000 people.
Binh Dinh has tropical monsoon climate with average temperature 270C, average humidity 80%, 2000mm rainfall and more than 2000 sunny hours per annnum, very favourable for development of agriculture, industry and tourism.
In recent years, Binh Dinh Province has positively mobilized its internal resource and attracted external resources to speed up the provincial economic development and improve the people's living standard. The precept of Binh Dinh Province in calling for investment and cooperation is to be well in advance in preparation of socio-economic infrastructure and reform of administrative procedures. The Investment Promotion Center of Binh Dinh Province is proud to introduce Binh Dinh as an attractive province for investment and cooperation.
Why Binh Dinh?
Advantageous location
Binh Dinh - one of the five provinces in the Key Economic Region of Central Vietnam - lies in the middle of the country's North - South axis (by national road, railway and by air) and is the most convenient gateway to the sea for the Central Highlands, Southern Laos, Northeastern Cambodia and Thailand (through Quy Nhon international port and National road 19), thus giving the province a prominent advantage for the promotion of regional and international communication and trade relations.
Complete infrastructure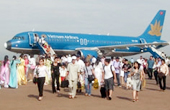 Binh Dinh has a well developed infrastructure including an extensive road network, railroad, airport and international seaport. It takes only 1 hour to fly from Binh Dinh to Ho Chi Minh City and 2 hours to fly from Binh Dinh to Ha Noi.
The supply of power and water, post and telecommunications infrastructure, financial and banking services are available while education and training and healthcare facilities can meet the demand of the national and regional people and enterprises.
Tourist amenities and recreational facilities have been constructed and upgraded.
Promising potential and resources
In addition to 134km coastline, beautiful beaches and landscapes and marine resources, Binh Dinh has various kinds of mineral resources such as granite, ilmenite, sand, kaolin, clay, mineral spring water and gold.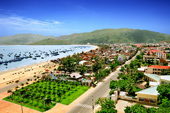 A land of martial arts, Binh Dinh has a rich cultural tradition. Visitors will see many historical and cultural relics connected to the name of the national hero King Quang Trung (also known as Nguyen Hue, leader of the Tay Son Uprising) and other country's famous cultural figures.
Binh Dinh was once the center of the Champa Kingdom. The famous relics of Do Ban (Vijaya) Citadel and 14 Cham Towers reflect the civilization's unique architecture and art.
Binh Dinh possesses many traditional craft villages and is home of traditional stage arts, many speciality foods, a unique cuisine and a series of annual festivals.
With a population of 1.6 million, half of which is of working age, and all traditionally hardworking and creative, Binh Dinh can supply an abundant labour force.
Dynamic economy and stable security
Binh Dinh's economy has been vigorously developing in recent years at the average GDP growth rate of 12%. At the same time, political security and social order have been stabilized, as they are vital for promoting co-operation and attracting investors and tourists. The major economic sectors of the province are fisheries and mineral, agricultural and forestry processing industries, of which the manufacture of wood products makes Binh Dinh's reputation as a big exporter of furniture.
Ambitious planning and enthusiastic welcome
Binh Dinh is focusing on developing Nhon Hoi Economic Zone with large-scale projects over a 12,000-hectare area adjacent to Quy Nhon City and is inviting investment from domestic and foreign investors in order to turn its potential into practical resources for provincial socio-economic development.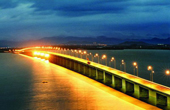 Established in June 2005, Nhon Hoi Economic Zone is to be developed into a general economic zone with its own operation regulation, comprising non-tariff zone, industrial zone, seaport service zone, tourist areas and new urban areas, operating under a special incentive mechanism, granted exclusively by the Prime Minister, as the center and driving force behind the development of Binh Dinh and the Key Economic Region of Central Vietnam. Nhon Hoi Economic Zone heralds tremendous business and investment opportunities. Coming to this economic zone, the investors can make large investments in core or hi-tech industries such as deep seaport construction, ship building and repairing, petrochemicals and oil refinery, electric or electronic product manufacturing and assembly, electricity production, tourism development, services related to trade and marine shipping, finance, banking, post and telecommunications. Investors can choose to locate their investment projects in the tariff zone, non-tariff zone or export processing zone.
Generous and open-minded incentive policies
Along with a positive cooperative attitude from Binh Dinh will be the provincial open-minded and generous incentive policies with realistic preferential treatment and assistance promulgated at the thought that the benefit and success of the investors are those of the province itself. Dynamically developed enterprise community reflects a transparent and favourable business climate in the province.
While any visits to Binh Dinh Province are yet to be planned, business people from the world over are kindly invited to look at the website www.binhdinhinvest.gov.vn for more information about the province. The hospitable people of Binh Dinh are eager to welcome all companies to the province to see for themselves the opportunities for business and investment.