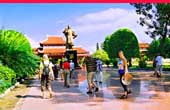 Binh Dinh is the land of martial arts, the cradle of the 18th century farmer movement with the well-known name of National Hero Nguyen Hue or King Quang Trung and also the homeland that cultivated the talent of such famous cultural persons as Dao Tan, Han Mac Tu, Xuan Dieu, Che Lan Vien, Yen Lan, etc.; home to many kinds of traditional arts.
Binh Dinh used to be the ancient Capital of Champa Kingdom, and its relics include Do Ban (Vijaya) Citadel and 14 Cham Towers with unique architectural art.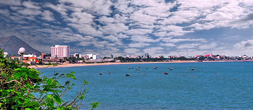 The coastline is long with many beautiful bays, beaches, harmonious and attractive seascapes such as: Tam Quan, Tan Thanh, Vinh Hoi, Trung Luong, Hai Giang, Salangane Island, Queen's Beach, Quy Hoa, Long Beach, etc. The province is now focusing its investment in tourism development, especially tourist infrastructure facilities.
Quy Nhon has now 93 hotels (four 4-star, two 3-star) with 2,241 rooms in total (1,507 international rooms). Some 4 - 5 star hotels and resorts are being planned for construction. 7 companies provide travelling service.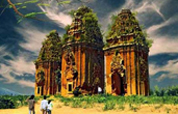 Binh Dinh has 231 historical cultural relics, including 33 relics certified by the Ministry of Culture and Information (now Ministry of Culture Sports and Tourism) and 55 relics cerified by the People's Committee of Binh Dinh Province.
Traditional Festivals:
Dong Da Victory Festival, Taloc - Talec Victory Festival; Nhong Pass - Duong Lieu Victory Festival; Hill 10 Victory Festival; Seaside Cultural Festival (Fish Praying Festival); Buffalo Lancing Festival.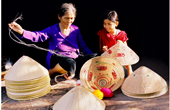 Traditional Craft Villages:
Bau Da rice liquor, fine art wooden product, pottery, Go Gang cone hat, Phuong Danh forged product, Song Thang noodle, coconut milk rice paper, sesame girdle cake.
Traditional Dishes:
Bánh hỏi (fine rice vermicelli) with pork, pinnate-leaf glutinous rice cake (filled with coconut meat or green bean paste), Bau Da rice liquor, Song Thang noodle, Cho Huyen (District Market) fermented meat roll, rice paper (especially rice paper with coconut milk).