1. Roads
National Road 1A goes 118km all the way through the province. National Road 1D with 19km in Binh Dinh Province out of 33km in total links Quy Nhon City to Song Cau District of Phu Yen Province on National Road 1A.
National Road 19 goes 70km in Binh Dinh and links the province to the Highlands, Northeastern Cambodia, Southern Laos and Thailand.
Coastal road Nhon Hoi - Tam Quan, 107km long, serves tourism development.
Western road An Nhon - Hoai Nhon, 112km long, is now under construction.
Provincial roads and almost all interdistrict and intercommune roads are covered with cement or asphalt concrete.
Like National Road 1A, National Railway goes 150km all the way through the province.
Dieu Tri Station, one of the 10 biggest stations in Vietnam, 12 km from Quy Nhon downtown and Quy Nhon Port, and terminals at all districts are of the railway network in the province. Vietnam Railways' Express Trains run North-South and a couple of high-quality trains runs between Ho Chi Minh City and Quy Nhon everyday.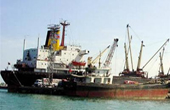 Quy Nhon International Port is one of the 10 biggest ports of Vietnam. Quy Nhon Port has well-sheltered anchorages, deep passage, large berths and modern facilities capable of safely handling 30,000 DWT vessels.
Depth: 8.50m (average tide: 1.56m); Passage breadth: 80m. This passage will be dredged and expanded to be 11m in depth and 120m in breadth.
Location: 10km southwest of National Road 1A, 455 nautical miles from Hai Phong Port, 175 nautical miles from Da Nang Port, 90 nautical miles from Nha Trang Port, 280 nautical miles from Vung Tau. There are direct routes between Quy Nhon port and major ports of Asia.
Average capacity: about 4 million tonnes per year.
Thi Nai Port, next to Quy Nhon Port, but smaller with a total berth length of 268m and water depth of 4-6m, is able to handle vessels of 3,000 to 5,000 DWT. Present capacity: about 0.8 million tonnes per year.
Nhon Hoi seaport of Nhon Hoi Economic Zone with capacity of 12 million tonnes a year is under construction.
4. Airway ( Phu Cat Airport)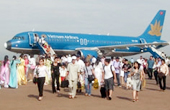 Phu Cat Airport is 30km north of Quy Nhon City; 3,050 m runway.
Daily flights between Phu Cat and Ho Chi Minh City and Ha Noi are available, using Airbus A320 or Fokker 70 aircrafts. Infrastucture for night flights is underway.
Add: 16 Nguyen Hue Street, Quy Nhon City, Binh Dinh Province
Tel: +84.56. 3891823, 3891094 Fax: +84.56. 3891536
Quy Nhon Port
Add: 02 Phan Chu Trinh Street, Quy Nhon City, Binh Dinh Province
Tel: +84.56. 3892015, 3892363 Fax: +84.56. 3891783
Thi Nai Port
Add: 02 Tran Hung Dao Street, Quy Nhon City, Binh Dinh Province
Tel: +84.56. 3891667, 3892991 Fax: +84.56. 3891667
Dieu Tri Station
Tel: +84.56. 3833255
Booking – Office in Phu Cat District
Tel: +84.56. 3825313