Annoucement
Notice of interest - Selecting investors to implement Northeast Dieu Tri Green Urban Area, Tuy Phươc district
14/10/2020
Binh Dinh Department of Planning and Investment would like to invite interested investors to submit documents for implementation of Northeast Dieu Tri Green Urban Area project with the following information:
1. Objectives of the project
- To build build a new and modern urban area in terms of architecture and landscape, synchronous technical and social infrastructure system; to construct houses with architecture and technology in conformity with the approved planning and in harmony with the current and future socio-economic development situation.
- To utilize the existing land fund, meeting the demand of people for residential land and housing, contributing to the completion of Quy Nhon city's urban development program and Binh Dinh province's housing development program.
- To implement the planning project of Northwest Quy Nhon city and the surrounding areas until 2035.
2. Scale of the project
Investment in the construction of a green urban area on an area of approximately 45 hectares, including the works: Low-rise housing (semi-detached houses, villas) of about houses 650 with synchronous criteria of planning, architecture, modernity; building a complete system of internal roads, technical infrastructure, green parks; establishing mixed urban service to ensure the provision of essential utilities to residents inside and outside urban area.
3. Minimum total investment: VND 2,255,336,315,596 (In words: Two thousand two hundred and fifty five billion three hundred and thirty six million three hundred and fifteen thousand, five hundred and ninety six dong), of which:
- Total project implementation cost (m1): 1,979,905,983,000 VND (Not including costs of compensation, support for resettlement, land use and land rental);
- Compensation, land clearance costs (m2): VND 275,430,332,596.
4. Summary of the project's basic requirements
For details, please read Decision No. 4223/QD-UBND dated September 14, 2020 of Binh Dinh Provincial People's Committee on approving the list of projects using land to organize bidding to select investors.
5. Project duration: 50 years
6. Investment period: 5 years from the date of siging the contract
7. Location of the project: Tuy Phuoc district, Binh Dinh province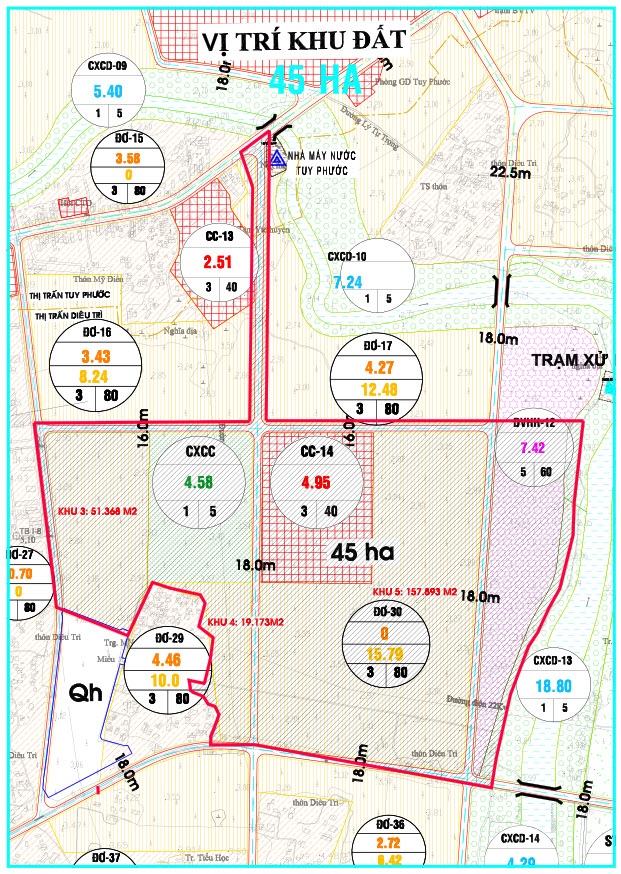 8. Land area: Approximately 45 ha.
9. Purpose and form of land use
- For residential land: The State allocates land with charge of land use fee; buyers own houses with long-term and stable land use rights.
- For trade and service land: The State leases land with one-time payment for the entire lease term; land use term: 50 years.
- For greenery land, technical infrastructure land and transport land: The State shall temporarily transfer the land to the investor for construction according to the detailed planning already approved by the competent agency. After the construction is completed, the contractor shall hand over the works to the local authorities for management according to the provisions at Point b, Clause 1, Article 26 of Decree No.43/2014/ND-CP of the Government detailing the implementation of a number of articles and clauses of the Land Law.
10. Approved planning criteria: According to Decision No.2338/QD-UBND dated July 12, 2020 of the Provincial People's Committee, approving the 1/5,000 scale planning of the Northwest Area, Quy Nhon city and the neighbouring region until 2035.
11. Land status: The land has not been cleared.
12. Deadline for investor to submit the project implementation document: From October 16, 2020 – 7:30 am November 16, 2020.
13. Bid closing time: 7:30 a.m November 16, 2020.
14. Time to open the project registration documents: 8:30 a.m November 16, 2020, 2020.
15. Project registration documents of investors: 10 sets (01 original and 9 copied versions), including:
a) A letter of project implementation, including commitments to bear all costs and risks if the project proposal is not approved;
b) Documents of the legal status, capacity and experience of the investor;
c) Other relevant documents (if any).
16. Contact information: Binh Dinh Department of Planning and Investment
- Address: 35 Le Loi, Quy Nhon city, Binh Dinh province
- Phone number: (0256) 3822628
- Fax number: (0256) 3824509
17. Other information about the project: Please contact the Department of Planning and Investment of Binh Dinh province for instructions and relevant documents.
Attached documents read here please.
Interested investors who wish to register for the project implementation, please submit project registration documents at Binh Dinh Department of Planning and Investment./.